Family Safety Combo - First Aid Kit Promo - Buy 1 x K410 Home Kit saving 10% and get for FREE 1 x Snake Bite Kit + 1 x K111 Car Kit
Family Safety Combo - First Aid Kit Promo - Buy 1 x K410 Home Kit saving 10% and get for FREE 1 x Snake Bite Kit + 1 x K111 Car Kit
5
3
Family Safety Combo - First Aid Kit Promo - Buy 1 x K410 Home Kit saving 10% and get for FREE 1 x Snake Bite Kit + 1 x K111 Car Kit
$109.45
$188.00
Ex Tax:

$99.50
FAST FREE DELIVERY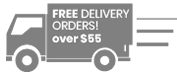 Get FREE delivery to anywhere in
Australia for all orders over $55.00!
A First Aid Kit Combo to give your family comprehensive protection at home and in the car. The K410 Home First Aid Kit was voted in the Top 3 kits in Choice Magazine (2007). Combine this best selling K410's with FREE a Snake Bite Kit and K111 Car First Aid Kit and you have protection for your family; whether at home, in your vehicle or to take to remote areas when camping or in the caravan.

This limited time offer gives you peace of mind.
Features:
| | | | |
| --- | --- | --- | --- |
| Risk Rating | Domestic | No. People Covered | Small Family |
| Item Count | 112 | Case | Hard Green plastic First Aid box wth two clear pastic boxes |
| Type | Portable | Locale | Home / Caravan / Car |
| Size | Medium | Colour | Green and Clear |


All of this provides assistance with:
Wounds, Grazes, Abrasions, Scratches, Cuts, Splinters, Punctures, Amputation

Strains, Sprains, Tears, Bruises, Dislocations, Fractures

Scalds, Burns

Eye Injury

Mouth and Tooth Injury

Exposure to Cold or Heat

Stings, Bites

Snake Bites
Included is the First Aid Kits Australia Basic Hints Guide with information on:
CPR, Choking, Shock, Bleeding, Heart Attack, Stroke, Vital Signs, Allergies, Head Injuries, Diabetes, Asthma, Epilepsy, Venomous Bites and Stings, Poisoning

BUY ONE K410




AND GET

2 FREE
ONE SNAKE BITE KIT plus
ONE K111 CAR First Aid KIT!

| | |
| --- | --- |
| K410 | QTY |
| Medium Utility Box with Tray | 1 |
| Keyring CPR Face Shield | 1 |
| Conforming Bandage - 2.5cm x 1.5m | 3 |
| Conforming Bandage - 5cm x 1.5m | 2 |
| Conforming Bandage - 7.cm x 1.5m | 1 |
| Heavy Crepe Bandage - 10cm x 1.5m | 2 |
| Triangular Bandage Non-Woven - 110cm x 100cm | 3 |
| Combined Dressing - 10cm x 10cm | 2 |
| No. 13 Wound Dressing | 1 |
| No. 14 Wound Dressing | 1 |
| Lite Dressing - 7.5cm x 5cm | 2 |
| Non Adherent Dressing - 10cm x 10cm | 1 |
| Gauze Swabs - 7.5cm x 7.5cm - 3 Pack | 2 |
| Basic Dressing Pack | 2 |
| Plastic Dressing Strips - 25 Pack | 1 |
| Cotton Applicators - 100 Pack | 1 |
| Tape Wrapped - 1.25cm x 9.1m | 1 |
| Eye Pad Sterile Single Use | 3 |
| Sodium Chloride Steri-Tube - 15ml | 5 |
| Instant Ice Pack - Large | 1 |
| Instant Ice Pack - Small | 1 |
| Splinter Probes - 5 Pack | 1 |
| Zinc Strapping Tape - 2.5cm x 5m | 1 |
| Nitrile Powder / Latex Free Gloves - 2 Pack | 3 |
| Re-sealable Bags for Disposable Use - 3 Pack | 1 |
| Scissors - Surgical - 125mm - Sharp Blunt | 1 |
| Tweezers - 125mm - Fine Point | 1 |
| Safety Pins - 12 Pack | 1 |
| Antiseptic Cream - 25g | 1 |
| First Aid Notes and Instructions | 1 |
| | |
| --- | --- |
| Snake Bite Kit | QTY |
| Heavy Crepe Bandages | 3 |
| Thermal Blanket | 1 |
| Marker Pen | 1 |
| No. 13 Wound Dressing | 1 |
| Handy Hints First Aid Book | 1 |
| | |
| --- | --- |
| K111 | QTY |
| Plastic First Aid Box - Small | 1 |
| Conforming Bandage - 7.5cm x 1.5m | 1 |
| Hopsital Crepe Bandage - 5cm x 1.5m | 1 |
| No. 13 Wound Dressing | 1 |
| Triangular Bandage Non-Woven - 110cm x 110cm | 1 |
| Combined Dressing - 10cm x 10cm | 1 |
| Eye Pad Sterile Single Use | 1 |
| Plastic Dressing Strips - 10 Pack | 1 |
| Tape Wrapped - 1.25cm x 9.1m | 1 |
| Gauze Swabs - 5cm x 5cm | 2 |
| Safety Pins - 12 Pack | 1 |
| Scissors - 7.5cm First Aid - Small | 1 |
| Tweezers - 7.5cm First Aid - Small | 1 |
| Nitrile Blue Latex Free Gloves - 2 Pack | 1 |
| First Aid Label - Small | 1 |
| Antiseptic Gel - 1g Sachet | 1 |
| Itch Relief Gel - 1g Sachet | 1 |
| Sodium Chloride Steri Tube - 15ml | 2 |
| Basic Dressing Pack | 1 |
| First Aid Notes and Instructions | 1 |
Powered By

.
First Aid Kits Australia © 2020. Privacy Policy. Quality Policy. Terms & Conditions. Sitemap.