Mini Emergency Hand Crank Portable Solar Radio, Torch & USB Charger
Mini Emergency Hand Crank Portable Solar Radio, Torch & USB Charger
5
2
Mini Emergency Hand Crank Portable Solar Radio, Torch & USB Charger
$38.50
$54.95
Ex Tax:

$35.00
FAST FREE DELIVERY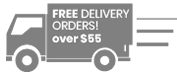 Get FREE delivery to anywhere in
Australia for all orders over $55.00!
A must for an emergency!
Keep AM/FM Radio with your family, camping gear, or caravan. Get up to date with the latest weather and all hazard information for your area.
It is is a USB charger with a 1 000 mAh power bank for charging your iPhone & cellphone via Micro-USB cable directly, no need of adapter anymore.
And finally, it is a compact flashlight / torch with 1W long-lasting powerful LED to use when camping, backpacking, hiking, caravaning, or any other outdoor activities;
It can be recharged in 3 ways: Micro USB charging, Solar charging, Manual hand crank to wind up the internal battery!
Powered By

.
First Aid Kits Australia © 2021. Privacy Policy. Quality Policy. Terms & Conditions. Sitemap.