K222 - Large Car or Caravan First Aid Kit
K222 - Large Car or Caravan First Aid Kit
$45.50
$64.00
Ex Tax:

$41.36
FAST FREE DELIVERY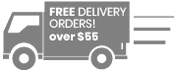 Get FREE delivery to anywhere in
Australia for all orders over $55.00!
Our K222 First Aid Kit, is the perfect all-rounder for a small home, 4WD, large car or caravan. It is a great kit for two people with everything you need for all domestic situations.

Purpose:
The K222 First Aid Kit provides individuals and couples with everything you need to protect yourself for around the home or when you are on the road. Our users include those people that want a First Aid Kit for their car or an easy to store kit for their caravan or home.

Features:
| | | | |
| --- | --- | --- | --- |
| Risk Rating | N/A | No. People Covered | Up to 2 |
| Item Count | 34 | Case | Clear Plastic |
| Type | Portable | Locale | Home / Car / Caravan |
| colour | Clear | SIZE | L31 x W5 x H20 Weight 800g |

It provides assistance with:
Wounds, Grazes, Abrasions, Scratches, Cuts, Splinters

Strains, Sprains, Tears, Bruises, Dislocations, Fractures

Minor Burns

Eye Injury

Included is the First Aid Kits Australia Basic Hints Guide with information on:
CPR, Choking, Shock, Bleeding, Heart Attack, Stroke, Vital Signs, Allergies, Head Injuries, Diabetes, Asthma, Epilepsy, Venomous Bites and Stings, Poisoning

Other Considerations:
A Snake Bite kit is the perfect addition to this First Aid Kit

First Aid Training saves lives.
| | |
| --- | --- |
| K222 Home / Car / Caravan | QTY |
| Flat Plastic Hinged Lid Box | 1 |
| Dressing Strips - Plastic - 20 Pack | 1 |
| Conforming Bandage - 2.5cm x 1.5m | 1 |
| Conforming Bandage - 10cm x 1.5m | 1 |
| Triangular Bandage (Non Woven) - 110cm x 110cm | 2 |
| Hospital Crepe Bandage - 7.5cm x 1.5m | 1 |
| No. 14 Wound Dressing | 1 |
| Combined Dressing - 10cm x 10cm | 1 |
| Combined Dressing - 10cm x 20cm | 1 |
| Eye Pad Dressing - Sterile | 2 |
| First Aid Book and Instructions | 1 |
| Latex Free BLUE Gloves - 2 Pack Large | 1 |
| Dressing Lite Non Adhesive - 7.5cm x 5cm | 1 |
| Dressing Lite Non Adhesive - 7.5cm x 10cm | 1 |
| CPR Face Mask | 1 |
| First Aid Label - Wide | 1 |
| Sodium Chloride - 15ml Steritube | 5 |
| Plastic Bags - 15cm x 20cm | 2 |
| Gauze Swabs - 5cm x 5cm - 2 Pack | 2 |
| Alcohol Wipes - 4 Pack | 1 |
| Basic Dressing Pack | 1 |
| Micropore Tape - 1.25cm x 9m | 1 |
| Scissors - Stainless Steel - 12.5cm | 1 |
| Tweezers - Stainless Steel - 11.5cm | 1 |
| Safety Pins - 12 Pack | 1 |
| Splinter Probes - 5 Pack Sterile | 1 |
| | |
| Total | 34 |