Sprains Module - Soft Pack
Sprains Module - Soft Pack
$11.50
$16.45
Ex Tax:

$10.45
FAST FREE DELIVERY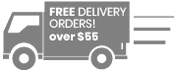 Get FREE delivery to anywhere in
Australia for all orders over $55.00!

Our new modular first aid kits are workplace compliant and enable you to quickly access exactly what is needed in an emergency. In addition to being highly visual and tamper sealed, these kits make auditing and replenishing a breeze.


Purpose:
This module provides assistance with sprains and soft tissue injuries

Module Contents
SPRAINS
1

Gloves

- Blue, Latex Free - 2 Pack
1

Instant Ice Pack

- Small
1

Tape - Zinc Strapping

- 2.5cm x 5m
1

Bandage - Crepe Heavy

- 10cm x 1.5m
1

Triangular Bandage

- Calico