AED Alarmed Cabinet
AED Alarmed Cabinet
$249.50
$350.00
Ex Tax:

$226.82
FAST FREE DELIVERY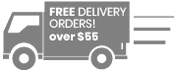 Get FREE delivery to anywhere in
Australia for all orders over $55.00!
Our AED Wall Cabinet with Alarm & Flashing Light is designed to suit most conventional AED's, including HeartSine Defibrillator models 350P, 360P and 500P.
Protect your AED from theft and environmental damage.
Ideal to wall mount in clubs, offices, industrial workplaces and large or small business environments.

Features:
• Strobe light to attract attention to the cabinet when the door is opened.
• Deterrant Alarm to deter would-be theives
• Visible: ANZCOR approved AED signage on sides of the cabinet

Size: 420mm x 380mm x 150mm