15cm x 150cm Conforming Gauze Bandage
15cm x 150cm Conforming Gauze Bandage
$0.99
$7.50
Ex Tax:

$0.90
FAST FREE DELIVERY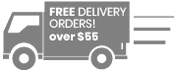 Get FREE delivery to anywhere in
Australia for all orders over $55.00!
Conforming Gauze Bandage - 10cm x 150cm sterile (with use by date) this is a must for every office and home first aid kit. Our self labelled product is in fact a SENTRY Medical Conforming Gauze Bandage which is constructed from a blend of Polyamide and Rayon.

These bandages are
• soft
• light weight
• porous, giving high comfort and air circulation
They are durable and suitable for supporting and relieving injured joints. It is suitable for use as dressing retention on high body movement areas such as the wrist, thigh, and knee injuries.

Our unstretched conforming bandage is 150cm long and comes in three different widths to better suit usage on different joints.
Application:
Firmly wrap the injured area using a figure 8 shape, or overlap for limb areas such as forearm or calf. Ensure that the areas above and below the injury are covered.
Always ensure the binding is comfortable. Should any numbness or tingling sensation arise, unwrap the bandage & rebind less tightly.
Important
You must not rely on the information on this site as an alternative to medical advice from your medical physician or other qualified healthcare provider. Consult your healthcare provider immediately if you think that you may have a medical emergency or for the diagnosis and treatment of injuries. Always seek the advice of your physician or other qualified healthcare provider before starting any new treatment or with any questions that you may have regarding a medical condition or injury.