K700 Workplace Compliant First Aid Kit - Metal, Wall-mount
K700 Workplace Compliant First Aid Kit - Metal, Wall-mount
5
6
K700 Workplace Compliant First Aid Kit - Metal, Wall-mount
$139.00
$255.00
Ex Tax:

$126.36
FAST FREE DELIVERY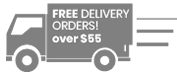 Get FREE delivery to anywhere in
Australia for all orders over $55.00!
Our K700 Wall Mountable First Aid Kit ensures that you are covered for low to moderate risk level workplaces.


Purpose:
Easily mounted wall casing and expertly designed so that you find your supplies quickly in an emergency, the K700 Safe Work Australia Compliant First Aid Kit is great for the shop, office, or warehouse. It can placed high and out of reach of children and should be placed close to running water.

Features:
| | | | |
| --- | --- | --- | --- |
| Risk Rating | Low / Moderate | No. People Covered | Up to 5 for Moderate Risk Up to 25 for Low Risk Workplaces |
| Item Count | 85 | Case | Powder Coated Metal, Stainless Steel Hinges |
| Type | Wall Mount | Locale | Office or Shop |
| colour | White | size | L25 x W16 x H41cm Weight 5kg |

It provides assistance with:
Wounds, Grazes, Abrasions, Scratches, Cuts, Splinters

Strains, Sprains, Tears, Bruises, Dislocations

Eye Injury

Mouth and Tooth Injury

Stings, Bites

Included is the First Aid Kits Australia Basic Hints Guide with information on:
CPR, Choking, Shock, Bleeding, Heart Attack, Stroke, Vital Signs, Allergies, Head Injuries, Diabetes, Asthma, Epilepsy, Venomous Bites and Stings, Poisoning

Other Considerations:
Consider the need for a Fire Extinguisher in your workplace, especially in the kitchen

First Aid Training is valid for 3 Years and CPR requires an annual refresher.

Stay up to date with the latest First Aid techniques.



| | |
| --- | --- |
| K700 Workplace Metal Wall Mount | QTY |
| White Powder Coated Metal Cabinet | 1 |
| First Aid Box Label | 1 |
| Conforming Bandage - 2.5cm x 1.5m | 2 |
| Conforming Bandage - 5cm x 1.5m | 2 |
| Conforming Bandage - 7.5cm x 1.5m | 2 |
| Conforming Bandage - 10cm x 1.5m | 1 |
| Conforming Bandage - 15cm x 1.5m | 1 |
| Hospital Crepe Bandage - 2.5cm x 1.5m | 2 |
| Hospital Crepe Bandage - 7.5cm x 1.5m | 2 |
| Heavy Crepe Bandage - 10cm x 1.5m | 1 |
| Calico Triangular Bandage - 155cm x 110cm | 2 |
| Triangular Bandage Non Woven | 3 |
| Combined Dressing - 10cm x 10cm | 2 |
| Combined Dressing - 10cm x 20cm | 2 |
| No. 13 Wound Dressing | 1 |
| No. 14 Wound Dressing | 1 |
| No. 15 Wound Dressing | 1 |
| Lite Dressing - 7.5cm x 5cm | 1 |
| Lite Dressing - 7.5cm x 10cm | 1 |
| Lite Dressing - 7.5cm x 20cm | 1 |
| Non Adherent Dressing - 5cm x 5cm | 1 |
| Basic Dressing Pack | 1 |
| Gauze Swabs - 5cm x 5cm - 2 Pack | 2 |
| BURNAID Sachets | 6 |
| Alcohol Wipes | 4 |
| Sharps Container Small | 1 |
| Kidney Dish - 10' clear | 1 |
| Cotton Applicators - 100 Pack | 1 |
| Zinc Strapping Tape - 2.5cm x 5m | 1 |
| Plastic Dressing Strips - 50 Pack | 1 |
| Dressing Roll - 7.5cm x 1m | 1 |
| Butterfly Closures - 10 Pack | 1 |
| Paper Tape Wrapped - 1.25cm x 9.1m | 1 |
| Eye Pad Sterile Single Use | 5 |
| Sodium Chloride - 15ml Steri-tube | 5 |
| Eye Wipe Rubber Ends | 1 |
| Eye Bath Cup | 1 |
| Antiseptic Spray - 50ml | 1 |
| Gloves Nitrile Blue - 2 Pack | 5 |
| Disposal Bags - 3 Pack | 2 |
| CPR Face Shield | 1 |
| Scissors Surgical - 125mm Sharp Blunt | 1 |
| Tweezers - 125mm - Fine Point | 1 |
| Safety Pins - 12 Pack | 1 |
| Splinter Probes - 5 Pack | 2 |
| Medicine Measure - 30ml | 1 |
| Instant Ice Pack | 1 |
| Note Book | 1 |
| Biro | 1 |
| First Aid Booklet and Instructions | 1 |
Powered By

.
First Aid Kits Australia © 2020. Privacy Policy. Quality Policy. Terms & Conditions. Sitemap.