K800 Wall Mount First Aid Kit
K800 Wall Mount First Aid Kit
5
2
K800 Wall Mount First Aid Kit
$235.00
$295.00
Ex Tax:

$213.64
FAST FREE DELIVERY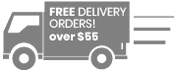 Get FREE delivery to anywhere in
Australia for all orders over $55.00!
Our K800 Safe Work Australia Compliant First Aid Kit is designed for a Low to Medium Risk Workplace of up to 35 workers. It has a durable metal wall-mount cabinet and contains only quality medical products you can rely on in an emergency.

Purpose:
The K800 Workplace First Aid Kit provides cover up to 35 workers in a Low Risk workplace or 25 workers in a Moderate Risk environment. It is Safe Work Australia compliant.

Features:
| | | | |
| --- | --- | --- | --- |
| Risk Rating | Low to Moderate | No. Workers Covered | Up to 35 or 25 |
| Item Count | 298 | Case | Metal, Heavy-duty, Lockable |
| Type | Wall-mount | Locale | Urban |
| COLOUR | White | SIZE | L30 x W16 x H43cm Weight 6kg |

It provides assistance with:
Wounds, Grazes, Abrasions, Scratches, Cuts, Splinters, Punctures, Amputation

Strains, Sprains, Tears, Bruises, Dislocations, Fractures

Scalds, Burns

Eye Injury

Mouth and Tooth Injury

Exposure to Cold or Heat

Stings, Bites

Included is the First Aid Kits Australia Basic Hints Guide with information on:
CPR, Choking, Shock, Bleeding, Heart Attack, Stroke, Vital Signs, Allergies, Head Injuries, Diabetes, Asthma, Epilepsy, Venomous Bites and Stings, Poisoning

Other Considerations:
Low Risk Workplaces should have 1 First Aider per 50 workers

High Risk Workplaces should have 1 First Aider per 25 workers

Locate your kit close to potential accident sites and near running water for simpler treatment of burns

Consider having a Defibrillator on site for the protection of staff and customers

Engage with your workers on safe work practices and first aid requirements - put a recurring meeting in your diary

Inform your employees where the First Aid Kits are and ensure they are properly trained to use the items within.

Keep a register of accidents and near misses for review

Safe Work Australia only has references Low and High Risk workplaces
| | |
| --- | --- |
| K800 Workplace First Aid Kit - Contents List | QTY |
| White Powder Coated Wall Mount | 1 |
| First Aid Kit Label - Large | 1 |
| Conforming Bandage - 2.5cm x 1.5m | 2 |
| Conforming Bandage - 5cm x 1.5m | 2 |
| Conforming Bandage - 7.5cm x 1.5m | 2 |
| Conforming Bandage - 10cm x 1.5m | 1 |
| Conforming Bandage - 15cm x 1.5m | 1 |
| Hospital Crepe Bandage - 2.5cm x 1.5m | 2 |
| Hospital Crepe Bandage - 5cm x 1.5m | 1 |
| Hospital Crepe Bandage - 7.5cm x 1.5m | 1 |
| Hospital Crepe Bandage - 10cm x 1.5m | 1 |
| Heavy Crepe Bandage - 10cm x 1.5m | 2 |
| Calico Triangular Bandage - 155cm x 110cm | 2 |
| Triangular Bandage Non Woven | 4 |
| Combined Dressing - 10cm x 10cm | 2 |
| Combined Dressing - 10cm x 20cm | 2 |
| Combined Dressing - 20cm x 43cm | 1 |
| No. 13 Wound Dressing | 2 |
| No. 14 Wound Dressing | 2 |
| No. 15 Wound Dressing | 2 |
| Lite Dressing - 7.5cm x 5cm | 2 |
| Lite Dressing - 7.5cm x 10cm | 1 |
| Lite Dressing - 7.5cm x 20cm | 1 |
| Non Adherent Dressing - 5cm x 5cm | 2 |
| Non Adherent Dressing - 10cm x 10cm | 1 |
| Non Adherent Dressing - 10cm x 20cm | 1 |
| Basic Dressing Pack | 2 |
| Burn Dressing - 10cm x 10cm | 1 |
| Burn Dressing - 75cm x 75cm | 1 |
| Burn Gel - 25g Tube | 1 |
| Gauze Swabs - 5cm x 5cm (2 Pack) | 4 |
| Alcohol Wipes | 4 |
| Sharps Container Small - 1L | 1 |
| Kidney Dish - 10' clear | 1 |
| Cotton Applicators - 100 Pack | 1 |
| Zinc Strapping Tape - 1.25cm x 5m | 1 |
| Zinc Strapping Tape - 2.5cm x 5m | 1 |
| Plastic Dressing Strips - 50 Pack | 1 |
| Dressing Roll - 7.5cm x 1m | 1 |
| Butterfly Closures - 10 Pack | 1 |
| Paper Tape Wrapped - 1.25cm x 9.1m | 1 |
| Paper Tape Wrapped - 2.5cm x 9.1m | 1 |
| Eye Pad Sterile Single Use | 5 |
| Sodium Chloride - 15ml Steri-tube | 6 |
| Eye Wipe Rubber Ends | 1 |
| Eye Bath Cup | 1 |
| Survival Thermal Blanket | 1 |
| Antiseptic Spray - 50ml | 1 |
| Nitrile Powder Free Blue Gloves - 2 Pack | 5 |
| Disposal Bags - 3 Pack | 2 |
| Key Ring CPR Mask | 1 |
| Scissors Surgical - 125mm Sharp Blunt | 1 |
| Tweezers - 125mm - Fine Point | 1 |
| Safety Pins - 12 Pack | 1 |
| Splinter Probes - 5 Pack | 1 |
| Medicine Measure - 30ml | 1 |
| Instant Ice Pack - Small | 2 |
| Instant Ice Pack - Large | 1 |
| Plastic Cup | 1 |
| Note Book | 1 |
| Biro | 1 |
| CPR Sign A4 | 1 |
| First Aid Booklet and Instructions | 1 |
| | |
| Total | 105 |
White Powder Coated AUSTRALIAN MADE Metal Cabinet
Perfect for Warehouses with Pallet Racking and Forklift Operations
Will cover Safe Work Australia Assessment Standards