KREFIT1 - Low Risk First Aid Kit - REFIT
KREFIT1 - Low Risk First Aid Kit - REFIT
$34.00
$55.00
Ex Tax:

$30.91
FAST FREE DELIVERY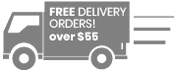 Get FREE delivery to anywhere in
Australia for all orders over $55.00!
KREFIT1 - Low Risk First Aid Kit refit for the family home or office kit. This is suitable to Restock the K400, K450, K700, K800, K900 or even the K1000. Remember to audit your kit on a regular basis to ensure it matches the original content list.
| | |
| --- | --- |
| Low Risk Top Up First Aid Kit | QTY |
| Nitrile Powder Free Blue Gloves - 2 Pack | 2 |
| Gauze Swab - 5cm x 5cm - 2 Pack | 2 |
| Sodium Chloride - 15ml Steri-tube | 5 |
| Plastic Dressing Strips - 25 Pack | 1 |
| Splinter Probes - 5 Pack | 1 |
| Antiseptic Spray - 50ml | 1 |
| Non Adherent Dressing 10cm x 10cm | 1 |
| Conforming Bandage - 2.5cm x 1.5m | 1 |
| Conforming Bandage - 5cm x 1.5m | 1 |
| Conforming Bandage - 10cm x 1.5m | 1 |
| Hospital Crepe Bandage - 5cm x 1.5m | 1 |
| Hospital Crepe Bandage - 7.5cm x 1.5m | 1 |
| Zinc Strapping Tape - 2.5cm x 5m | 1 |
| Triangular Bandage Non-Woven - 155cm x 110cm | 2 |
| No. 14 Wound Dressing | 1 |
| Combined Dressing - 10cm x 10cm | 1 |
| Combined Dressing - 10cm x 20cm | 1 |
| Disposal Bags - 3 Pack | 1 |
| Eye Pad Sterile Single Use | 2 |
| Burn Gel Sachet - 3.5ml | 4 |
| Basic Dressing Pack | 1 |
| Lite Dressing - 7.5cm x 5cm | 1 |
| Lite Dressing - 7.5cm x 20cm | 1 |
| Paper Tape Wrapped - 1.25cm x 9.1m | 1 |
| First Aid Notes Instruction | 1 |
| | |
| Total | 36 |
BIG SAVINGS
ON REFIT KITS