K1011 First Responder - 2 Tray Portable
K1011 First Responder - 2 Tray Portable
5
1
K1011 First Responder - 2 Tray Portable
$396.00
$495.00
Ex Tax:

$360.00
FAST FREE DELIVERY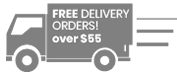 Get FREE delivery to anywhere in
Australia for all orders over $55.00!

Our K1011 Portable First Aid Kit is a big two tray top of the range Paramedic size for serious user's.
Purpose:
The K1011 Large First Responder First Aid Kit is for Infield use. An Excellent First Aid Kit to Cover the High Risk workplace.

Features:
| | | | |
| --- | --- | --- | --- |
| Risk Rating | Low / Moderate | No. People Covere | Up to 50 for High Risk |
| Item Count | 118 | Case | Plastic Hard Case |
| Type | Portable | Locale | Anywhere |
| Size | Extra Large | Colour | Orange |

It provides assistance with:
Wounds, Grazes, Abrasions, Scratches, Cuts, Splinters

Strains, Sprains, Tears, Bruises, Dislocations

Eye Injury

Mouth and Tooth Injury

Stings, Bites

Snake Bites

Included is the First Aid Kits Australia Basic Hints Guide with information on:
CPR, Choking, Shock, Bleeding, Heart Attack, Stroke, Vital Signs, Allergies, Head Injuries, Diabetes, Asthma, Epilepsy, Venomous Bites and Stings, Poisoning

Other Considerations:
This is one of the top of range First Aid Kits on the market.

Buy this kit and conduct the training to help save a life.



| | |
| --- | --- |
| K1011 Portable | QTY |
| Orange Large Portable (Ferno 2072 Box) | 1 |
| Conforming Bandage - 2.5cm x 1.5m | 4 |
| Conforming Bandage - 5cm x 1.5m | 4 |
| Hospital Crepe Bandage - 7.5cm x 1.5m | 2 |
| Hospital Crepe Bandage - 10cm x 4m | 2 |
| Heavy Crepe Bandage - 5cm x 1.5m | 4 |
| Heavy Crepe Bandage - 7.5cm x 1.5m | 2 |
| Heavy Crepe Bandage - 10cm x 1.5m | 2 |
| Calico Triangular Bandage - 110cm x 110cm | 5 |
| Combined Dressing - 10cm x 10cm | 3 |
| Combined Dressing - 10cm x 20cm | 2 |
| Combined Dressing - 90cm x 9cm | 2 |
| No. 13 Wound Dressing | 2 |
| No. 14 Wound Dressing | 2 |
| No. 15 Wound Dressing | 2 |
| Lite Dressing - 7.5cm x 5cm | 2 |
| Lite Dressing - 7.5cm x 10cm | 2 |
| Lite Dressing - 7.5cm x 20cm | 2 |
| Non Adherent Dressing - 10cm x 10cm | 2 |
| Island Dressing - 7.5cm x 5cm | 2 |
| Island Dressing - 8cm x 10cm | 1 |
| Basic Dressing Pack | 3 |
| Burn Gel Dressing - 10cm x 10cm | 2 |
| Burn Dressing - 75cm x 75cm | 1 |
| Burn Dressing - 75cm x 200cm | 1 |
| Burn Gel - 3.5g sachet | 10 |
| Gauze Swabs - 7.5cm x 7.5cm (3 Pack) | 1 |
| Sharps Container Small - 10 Needle | 1 |
| Cotton Applicators - 100 Pack | 1 |
| Zinc Strapping Tape - 2.5cm x 5m | 1 |
| Fabric Dressing Strips - 50 Pack | 1 |
| Dressing Roll - 7.5cm x 1m | 1 |
| Butterfly Closures - 10 Pack | 1 |
| Paper Tape Wrapped - 1.25cm x 9.1m | 1 |
| Eye Pad Sterile Single Use | 5 |
| Sodium Chloride - 15ml Steri-tube | 10 |
| Eye Wipe Rubber Ends | 2 |
| Fabric Knuckle / Fingertip - 12 Pack | 1 |
| Survival Thermal Blanket | 2 |
| Antiseptic Spray - 50ml | 1 |
| Povidone Iodine Aero Swab - 10 Pack | 1 |
| Penlight Diagnostic Examination Torch | 1 |
| Sam Splint 36" | 1 |
| Nitrile Powder Free Blue Gloves - 2 Pack | 6 |
| Disposal Bags - 3 Pack | 2 |
| CPR Pocket Mask | 1 |
| 18cm Shears | 1 |
| Scissors Surgical - 125mm Sharp Blunt | 1 |
| Tweezers - 125mm - Fine Point | 1 |
| Safety Pins - 12 Pack | 1 |
| Splinter Probes - 5 Pack | 2 |
| Instant Ice Large | 1 |
| Note Book | 1 |
| Biro | 1 |
| First Aid Booklet and Instructions | 1 |
TOP KIT - FIRST RESPONDER
Powered By

.
First Aid Kits Australia © 2021. Privacy Policy. Quality Policy. Terms & Conditions. Sitemap.