MediPlast Elastic Tape 7.5cm x 4.5m
MediPlast Elastic Tape 7.5cm x 4.5m
FAST FREE DELIVERY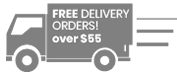 Get FREE delivery to anywhere in
Australia for all orders over $55.00!

MediPlast Elastic Tape 7.5cm x 4.5m
Price per Roll inc of GST
Individually packed, woven elastic cloth made of cotton and synthetic thread

Light, soft, porous, sterilizable and washable

70% Cotton; 30% rubber thread

Flesh & White color

Important
You must not rely on the information on this site as an alternative to medical advice from your medical physician or other qualified healthcare provider. Consult your healthcare provider immediately if you think that you may have a medical emergency or for the diagnosis and treatment of injuries. Always seek the advice of your physician or other qualified healthcare provider before starting any new treatment or with any questions that you may have regarding a medical condition or injury.
Powered By

.
First Aid Kits Australia © 2021. Privacy Policy. Quality Policy. Terms & Conditions. Sitemap.